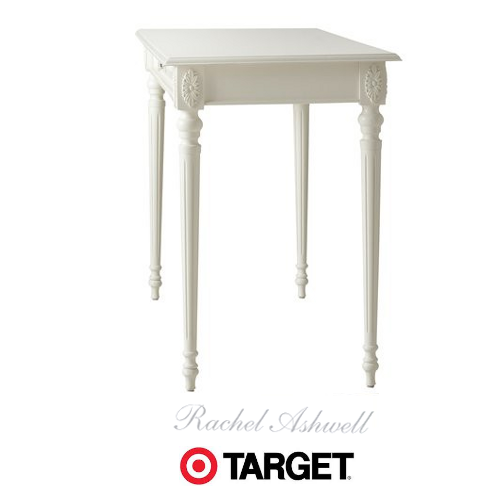 Rachel's Line For Target- View More Of This Furniture Here. 
Ashwell's accessories can be found in the homes of stars such as Jennifer Lopez, Madonna and Oprah Winfrey, but she didn't start out so big.  As a child she was used to being dragged out of bed early in the morning to go flea market shopping with her parents on weekends. Her mother restored and sold antique dolls, and her father was an antique book dealer, so those years of antique shopping developed within her a keen sense of what quality was and the details to look for that made objects valuable.
Ashwell went on to writing several books on treasure hunting and how to buy and resell and repair flea-market finds.  For more than 14 years she has followed her love of  shabby chic elements such as romantic florals, white linen, white furniture, and outstanding antiques which she has developed into a brand that annually brings in more than $10m.  She has also  created a line for Target, in which she supplies her accessories to hundreds of stores around the world.  She now has five more stores,and over 125 employees.  Her stores are currently in Chicago, San Francisco, Malibu, Newport Beach and New York.
Shabby Chic Interiors--My Rooms, Treasures, and Trinkets, begins with Rachel's breathtaking Los Angeles residence. She features a mountain-top home in the Hollywood, and a beautiful Malibu beach cottage.  She gives a peek into celebrity homes, including the house that once belonged to Marilyn Monroe. This book celebrates all that is wonderfully Shabby Chic.
"One of my pet peeves is too much matching, clutter, frills and people being too quick to complete the decorating process. The solution is to simplify. Be without, rather than making a wrong quick choice. Less is more."- Rachel Ashwell
Shabby Chic: Sumptuous Settings and Other Lovely Things
 The Shabby Chic Home
The Shabby Chic Gift of Giving
Shabby Chic Interiors: My Rooms, Treasures, and Trinkets
"I don't really follow trends as I stick to my palette of pale green, pale pink, pale blue, cream and ivories." Rachel Ashwell
The hundreds of lavish photographs in these books Rachel Ashwell's world of Shabby Chic. Rachel Ashwell, founder of the Shabby Chic home decor stores, for the first time provides her invaluable and much-sought-after advice on how to re-create Shabby Chic style in your own home. With engaging text and easy-to- follow instructions, Rachel details the Shabby Chic basics in a way that will put even the most apprehensive or novice decorators at ease. From flowers to fabrics to lighting, Rachel illuminates all of the elements essential to this unpretentious yet truly exquisite style
Shabby Chic
Rachel Ashwell's Shabby Chic Treasure Hunting and Decorating Guide