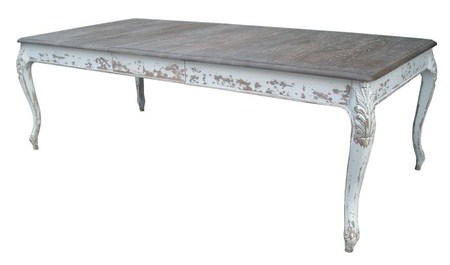 Louis Extension Dining Table French White Solid Hardwood
A great dining table is a staple for every home.  Investing in great antiques can be exciting, especially when so many styles are within reach.   A dining table is one of those pieces of furniture that is used daily, if not several times a day, so don't be afraid of throwing some money towards a great one.    Modern entertaining happens around the table most of the time than any other room in the house.  You want a table that you can use, not necessarily just for show.  Invest in a wood table that you could re-finish years down the road.  If you choose to paint, or strip it down to its raw wood appearance, you can with solid wood.
The Napoleon collection above,  captures the romantic feel of vintage, painted furniture from the French countryside. This table featuring gently curved frames made of solid hardwood, brightly colored then rubbed down on the edges. Adds a soft splash of sophistication to any setting. $2,200.00 71" to 91" x 43" x 30", (91" fully extended )  This dramatic table is made from solid oak wood.  Check out my top 6 picks that you can buy today for your home:
This table is inspired by 19th-century French Empire design.  The  Château Dining Table is handcrafted of solid reclaimed pine timbers from over 100 years old buldings and delivers today's functionality with an inspired historical design, stripped down and raw finish and made from kiln dried hardwood.  The overall finish is painted in a white wood wash, and retains the antique look from salvaged wood, and aged reclaimed wood timbers.
White Painted Console Table In Medium, 18th Century Italy, Lacquered Wood And Gold
French Louis XVI Painted Center Table
19th Century French Louis XVI Painted center table, circa 1880, having a rectangular shaped top resting on fluted legs and joined in the center with a shaped finial urn stretcher. Simple lines and classic elegance,
original patina, and a unique shape. Measuring 50W x 29D x 29H and in great antique condition, with normal wear to the patina due to age.
Maison Dining Table Solid Oak Weathered Grey Oval Table
Consider this stunning Maison table available from World Bazaar Exotics on ebay, listed at $1,188 for your Swedish Gustavian styled home. This outstanding table with timeless 18th century style is crafted out of solid oak with aged finishing techniques that will surely impress you and all your guests. This deep grey finish will work quite perfectly in a Gustavian styled home. This table includes one 20" drop-in leaf extension.
Dimensions:
48" Version: 48W X 47D X 31H, 68W with leaf
72" Version: 72W X 47D X 31H, 92W with leaf
Restoration Hardware also sold a very comparable table inspired by 19th-century French Empire design. RH's table is also built from solid oak, and had a full skirt and slender tapered fluted legs. A weathered finish also lends itself to a look that has been aged for years. RH's price ranges from $695 - $1495
Restoration Hardware's French Oval Table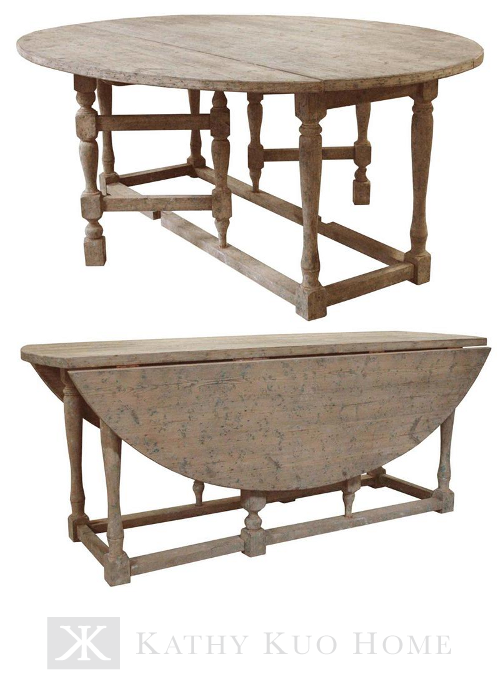 Gustavian Oval Gate Leg Table
Gustavian furnishings have an uncanny ability to express serious sophistication without ever veering into the indulgent, foo-foo, or precious. This oval dining room table is a classic example of serious form following the functionality that only a drop leaf surface can provide. Whether placed in a loft of cottage, city apartment or large estate, this piece just works. 31 inches high x 63 inches wide x 77.5 inches long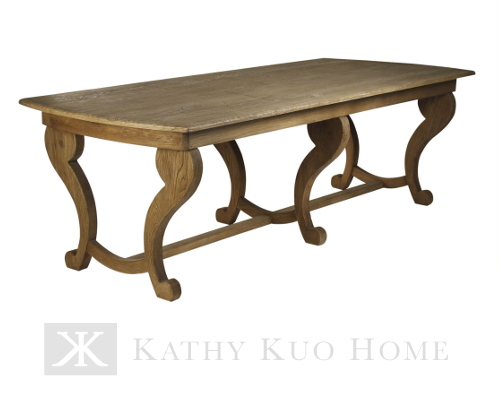 French Country Louis Dining Table $3,348
A graceful 18th century style piece reminiscent of the French country aesthetic, this generous dining table will please those devoted to beauty and simplicity. Fashioned from solid oak and elm, the rounded edges and legs create a gentle, rustic effect.
Linley Heavy Distress Farm House 14 Person Trestle Dining Table $3,938.00
White Dining Room Ideas From Charles Spada Featured in Veranda Magazine
White Dining Room Ideas From Charles Spada Featured in Veranda Magazine
White Painted Neoclassical Chairs- Nuevo Estilo
Rustic Farmhouse Tables- Wabi-sabi Interior design